What Happens Next: An anthology of sequels
Edited by Fred Patten
Cover Art by Sara Miles
424 pp., $19.95
FurPlanet Productions, July 2013
Other than annual awards collections, mainstream fantasy and science fiction anthologies have all but vanished. Furrydom, though, has an infatuation with them. We pump out several a year, nearly always of original fiction and nearly always themed: cyberpunk, Halloween, science fiction, gay erotica featuring farmboy foxes. Whether readers share this enthusiasm for anthologies with writers, though, seems murkier.
In What Happens Next, an anthology from 2013, each story connects to a published story from furry's past. At first blush there's a logic to this. What sells most consistently in genre fiction has long been the serial, from E.E. Doc Smith's Lensman series through Jim Butcher's Dresden Files. Kyell Gold's popularity is in no small part due to the Argaea and Dev & Lee series. Yet the chances are slim that a reader who isn't deeply invested in stories produced by furrydom over the last quarter-century will know all or even most of the earlier works. How interested can you be in continuing adventures of characters you don't know?
Some characters who appear here, like M.C.A. Hogarth's Alysha Forrest or Gold's Volyan, are likely known to many—and if not, their earlier adventures have stayed in print. Others, though, may be entirely unknown to today's audience. I'm not sure if Elizabeth McCoy's Kintara stories have seen in-fandom print since the demise of PawPrints, and Ken Pick's Brigit Bunny hasn't appeared since Yarf! #24 in May 1993. (McCoy has made both old and new Kintara stories available for Kindle.)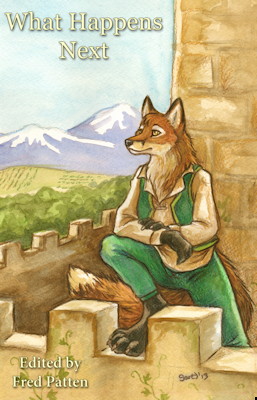 Fortunately, What Happens Next largely ignores the dictates of its title. Many of its eleven stories stand alone, and more than one takes place early in the continuity of related stories. This is less a collection of further adventures than simply new ones. The good news, then, is that this set of stories can serve as an introduction to these characters, authors and worlds. Those who are already fans, though, shouldn't expect new insights or shocking revelations.
Michael Payne's rollicking and witty contribution, "Immolation," is a direct sequel to his Ursa-winning "Familiars" from the Ursa Major Awards Anthology, featuring the squirrel sorceress Cluny and her human familiar Crocker. "The Magi Decree" is an adventure of Chuck Melville's Felicia, an amoral vixen sorceress, excerpted from an in-progress novel, and shares the series' hallmarks of serious high fantasy with a cartoonlike facade. Brock Hoagland's barbarian leopard woman Perissa checks in for "Festival of Vampires"; I confess I haven't warmed to Perissa after the two tales of her I've read, but it's a solid enough Red Sonja pastiche.
The Ursa-winning "The Monkeytown Raid" presents a dystopian tale of human vs. nonhuman gang conflict featuring—although not focusing on—the psychopathic sable Jack Salem. Roz Gibson's inventive setting is gloriously ruinous and the violence is characteristically unsparing, but the plot is a bit paint-by-numbers. Kevin Frane's "False Doctrine," set in the same world as his Thousand Leaves and The Seventh Chakra, featuring the assassin Montserrat Léonide, who appeared before in the short story "Shadows of Novoprypiatsk." Haunted, emotionally broken and unglamorized, Léonide is as heartbreaking as she is chilling.
Kristin Fontaine's Tai-Pan story, "Reflections of Things to Come," intertwines several slice-of-life stories on the titular merchant spacecraft; the gentle, personal dilemmas faced in the story lose some heft if your familiarity with the cast is minimal. "Second," the only story that isn't original to this volume, tells how Hogarth's Alysha Forrest meets Taylitha, the woman destined to be her second-in-command. While Alysha's archetypal combination of a relentless drive toward service and a poise far beyond her years is central to her stories, here it verges on the supernatural.
Jenner's "Pick-Up at Hanging Drop," the title an allusion to a famous Australian film, is a modern day slice-of-life story, elevated by genuine tension, Jenner's deep experience with medicine and an unconventional writing style. "Sibling Rivalry" is a sequel of sorts to Kyell Gold's underrrated Argaea novel Shadow of the Father. Duty and familial bonds run deeply in most tales of Argaea and this introspective story of Volyan, Lord Volle's elder son, is no exception.
A first contact story between two alien races, McCoy's "Blackest before the Dawn" alternates its point of view between a (supposed) primitive and one of her advanced captors; both the characterization and the exotic worldbuilding are first rate. Pick's "Game of Fox and Rabbit" mixes sweeping alien societies with a charming retrofuturism, sadly undone by a future history that doesn't even try to disguise moralistic harangues about What Modern America Does Wrong. James Cameron's Avatar is a comparative model of restraint and thematic subtlety.
It's unrealistic to expect every story in a collection such as this to appeal to every reader, but What Happens Next has a unique value despite its flaws. While the Ursa Major Awards anthology and the hard-to-find 2006 Furry! may be closer to the best of what furry has to offer, What Happens Next is arguably a better introduction to the most popular characters and settings of furrydom's last quarter century.